I found a link in a Google+ post failed to be opened someday. It's awkful, right? It's on Google+! The Google - who leads the web tech.
Then I confirmed the same false link sample showing up in BlackBerry 10.
I've double checked it in my WeChat under Android - it's there too. But not in the WeChat for BlackBerry 10.
The false link sample is like this:
(http://mindon.github.io?testing)…something-else
Here's a snapshot from Google+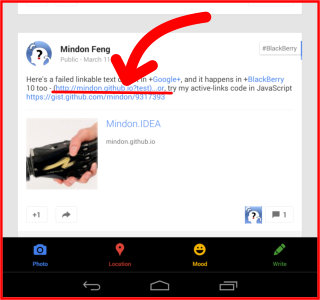 The case is showing up almost everywhere - we are using the same library to detect links.
Our test team and I could not accept this result in WeChat for BlackBerry 10, then here comes my customized linkable text detecting code in JavaScript.
It helps to avoid this issue and provides you the customized possibility.
WeChat;BlackBerry 10;Google+