DaSign
The signs to light up your life.
It's Mindon first Android app :D
It's more than a SVG(Scalable Vector Graphics) viewer, but a powerful tool to declare yourself.
Small install package size - 0.3MB only! 90+ super HD signs included!
Show it with your nexus 7, it will be super cool!
Do not hesitate to show it when your L8 ingress team taking photos.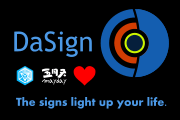 It's FREE, without any advertisements.
If you are an ingress player, you should own it.
If you reach L8 in the game ingress, taking a team photo, you need it.
If you are a Mayday fans, It makes your group special.
If you like others to be Mayday fans, equip them with it.
It fits all kinds of screens with high resolution. Yes, it's vector.(SVG format)
[Operations] 1) Long tap or slide to show list; 2) Double tap to show information of the sign; 3) Tap to hide list.
Here's the Google Play link : DaSign @ Google Play.