用30種不同語言說"我愛你/我爱你"(語音版/语音版)—— 送給你愛的她/他
跟隨愛的語言遊歷全世界 http://mindon.appspot.com/i-love-u
Saying "I love you" in different languages, was to show my love to my dear fiancée - Aby, before our wedding.
I promised her: one new language will be appended each year.
You can visit the webpage with roses http://mindon.appspot.com/i-love-u.
The "I love you" languages are connected with Locations in Google Maps (If you are in China Mainland, you may need a proxy to see the map. Please check GoAgent – Make Your Own Fast Proxy With GAE or search GoAgen in Google.)
If you like to keep this offline. You may choose the Chrome App "I Love You" from Chrome Store: Say "I Love You" in different languages(audio version)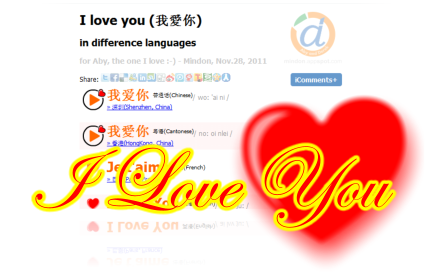 语音版本。
Visit Google Chrome Store to get the app.